Bachelor's Party and Wedding Animation
Take part of a unique animation for your Bachelor or Bachelorette Party !
There is only one step from your Bachelor Party to your Wedding Celebration
Some unique life events deserve to be celebrated in a sensational way and especially designed for you! How to find an original amusement for your hen / stag night and wedding?
Experience different activities that can be adapted to both events!
You can join a tailor-made cocktail workshops for your bachelorette party, your bachelor party or for your couple's last party as single.
Develop your sense of smell and taste with the cocktail course!
Our Bachelorette and Bachelor Party Special Workshop is the perfect activity to spend this unforgettable moment.
Amazing vibes guaranteed with our Bridesmaids Team!
Select the formula and the place that suits you best! Whether at home, with a friend, at a partner institution or at the place you like, Easyflair is at your disposal.
Special Cocktail Workshop for Bachelorette Party / Bachelor Party / Last Party as single
Who has never dreamed of mastering the Art of cocktails like Tom Cruise in that famous movie?
Treat yourself with a workshop where you will discover the art of mixing drinks to make extraordinary cocktails, and become shaker artists for a day.
With Maxime, you will learn the basics of making a cocktail. Starting with how to combine and balance flavors, then developing your palate tasting different recipes.
You will also learn fruit cutting techniques and pouring techniques. Participants will leave with basic recipes that are easy to reproduce at home.
All in a relaxed and friendly atmosphere that is ideal for a soft and authentic bachelor party or bachelorette party.
Do you want to spice up the atmosphere? Maxime will invite you to animate your group with games and challenges about cocktails. Brides and grooms love it!
You obviously will have the choice of arranging alcoholic or non-alcoholic drinks, depending on your preference.
Duration: 1 hour / 1h30
Minimum number of people: 6 people
For more than 7 people, the workshop for the bride and groom will be free of charges!
Presentation of the entertainment
Welcome cocktails
Quiz
Pouring and cutting techniques of fresh fruit
Cocktail creation
Mini-cocktails tasting
Souvenir photos
Discover Our Partner Restaurants
Our network of partner restaurants in Geneva and in French-speaking Switzerland welcomes you to accompany this activity with a good meal.
The American Diner
Come and immerse yourself in the Happy Days!
Burger, Sides, Mexican Corner...
Tapas or meal formula
The must-visit charming Brewery
Home & Seasonal Cuisine, Italian Influence...
This place is for you!
Seated meal plan
The Trendy & Modern Restaurant
Mediterranean, Japanese, Nikkei...
The trip is designed to seduce the finest taste buds!
Seated meal plan
Your Wedding Reception
A moment of joy and celebration
It's time for reception which means you're married and it's official! Your guests are eager to congratulate you and share this moment of joy with you! Howevere it is also the time to refresh everyone.
The Vin d'Honneur, also called a Cocktail Reception, will open the festivities and this is why it's a key moment that must be successful.
What if you had the opportunity to make your Reception original with tailor-made drink formulas? The tasting of different cocktails will refresh your guests as much as it will bring them together around the bar.
What is the secret to a successful reception? Of course your guests will want to spend time with you and make a toast for your "long life" together ! However, the proliferation of drinks, especially alcoholic drinks, offers too many choices and above all gives you headaches!
Simplify your life by opting for two signature cocktails, white & red wine, a little champagne and especially flavored water.
« Pick & Drinks » Formula
Add a touch of originality to complete your wine of honor. Flavored waters, tasty mocktails and cocktails of your choice will be directly delivered or collected at the depot. Customizable containers according to your wishes (your wedding logo, your initials or the date of your event) to mark the occasion a little more!
« Bartender at your Service » Formula
Make a difference by offering your guests a cocktail that will never be forgotten by hiring a passionate Bartender to create cocktails worthy of a paradise beach! The team of bartenders and hostesses (if necessary) will be added to the provision of your Caterer for a service performed according to your requests.
Wedding Cocktails Animation
Our Evening Bar Animation Packages
You have managed to gather your loved ones around you and the mood is in full swing. The afternoon is here, your family and friends are ready to go wild on the dance floor to celebrate your union. What would be the most original entertainment you could offer your guests for the festivities? Discover our ideal Open Bar formulas that will delight the most festive.
Fruit juices, non-alcoholic cocktails, Whiskey and other spirits for the party animals ready to enjoy until the end. Or the famous cocktails for touch of exoticism...
« Pick & Drinks » Formula
Do you know the secret of a good open bar? If you have already planned alcohol on your side, adding cocktails could make the difference. A pick-up or delivery service of the best cocktails specially designed for the open bar and ready to taste. With or without alcohol, this concept of pretty high-end drinks with new flavors delivered in bottles can be customized. Add the logo of your wedding, your initials or the date of your Day to mark it a little more!
« Bartender at your Service » Formula
Imagine a professional bartender in charge of distributing drinks for your wedding. With or without alcohol, Vodka, Gin, Whiskey and digestives, but also… cocktails !! In classic glasses, test tubes or James Bond-style cocktails. A professional bartender is at your disposal with all the drinks. This service is perfect for adding a Disco atmosphere to your exceptional wedding evening! Possibility of expanding the team with additional bartenders and hostesses if necessary.
« Flair Bartender » Formula
Dinner is over and it's time to have the first dance! Your guests are ready to heat up the dance floor. How to immortalize the opening of the bar after your incredible dance? The flair bartender will open the bar by offering original cocktails. It will amaze adults and children by juggling bottles, spitting fire or doing magic tricks... An original activity that all your guests will enjoy. With or without alcohol, in the glasses of your choice, the flair bartender will offer the best show ever.
Customize your cocktail bar
Since you have decided to set up a unique entertainment with a bartender for your wedding, you should know that it is possible to personalize your bar.
Oh Yeah ! Marriage is surely the happiest day of your life! Even if it means putting so much effort into organizing it, why not printing your name on the cocktail station? or a customization according to your theme?
These mobile counters are customizable in brick, wood, stainless steel or in different colors. In order to fully customize your cocktail bar according to your taste, you can click on the contact page and request more information.
Next Day Brunch, After wedding Brunch
After the wedding... comes brunch
The wedding is over! The crazy organization, the tears of joy and the fashionable questions leave room to post-wedding brunch. Have you decided to get together with your loved ones for a relaxed and less formal meal? Excellent initiative! Even if the brunch the next day does not follow the same codes as the wedding, it deserves a special attention. A free bartender service or even a bartender ready to serve you Bloody Marys will offer you all the relaxing moment you deserve.
« Pick & Drinks » Formula
A pick-up or delivery service of the best cocktails and flavored waters specially designed for a relaxed brunch. With or without alcohol, this concept of pretty high-end drinks with unique flavors delivered in pretty bottles is customizable.
« Bartender at your Service » Formula
A bartender at your disposal will serve you the cocktails and drinks you want to go along with this exceptional moment of relaxation. They will have the advantage of refreshing your guests and making them discover new flavors and associations. A cocktail bar animated by a professional to close this magical event.
Selfie or not Selfie? Let's talk about the Photobooth
Are you always looking for
a different and unique activity
that will leave an unforgettable memory with your guests? Do not look any further ! Do you know the
Photobooth
? This is a new generation of mobile and digital photo booth that allows you to take a photo and ... Print the images directly !! Costume and accessories provided! Fun guaranteed. Your guests will love to go crazy in front of this selfie device. It's hard to imagine a wedding without Photobooth now!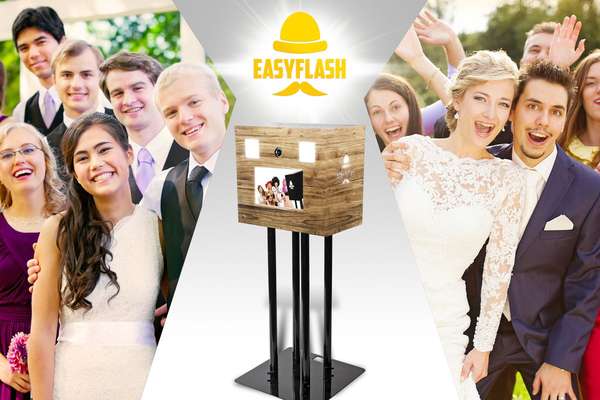 Easyflash
is a company specialized in Photobooth Rental (selfie station or photo station) since 2011. We offer our EasyBoxes in Geneva, throughout Switzerland and abroad. If you are concerned about producing a quality service, our Photobooth services are customizable and we put all our professionalism at your service.
Customizable photos
Customizable backdrops
Customizable EasyBox back
Customizable screen
Customizable mail
Optional accessory packs
Dismantling & pick-up can be done by you or through our company Easyflash (additional charge)
Visit the Easyflash website
Discover our privileged partners for a successful event!
The Domaine de Collex
In a green and rural setting, designed and adapted to the organization of your wedding. 10 minutes from Geneva, this exceptional domain is only available for exclusive rental, allowing you to benefit from a personalized service for the most important day of your life. Combining authenticity and rusticity, their spaces have a modern infrastructure to realize the different moments of your wedding.
www.domainedecollex.ch
White Label Studio
Specialized in the organization and decoration of unique and tailor-made weddings, WHITE LABEL STUDIO is a different, creative and innovative Wedding Planning & Design agency whose vocation and passion is to put its expertise at the service of your imagination so your dream comes true.
www.whitelabel-events.com
DJ Event
Are you looking for a DJ for the best day of your life?
One DJ that can be accompanied by a saxophonist or a live show, sound and light package, we are at your disposal, according to your desires and budget.
DJ Event works among music lovers, always ready to share their passion with you, music is their life and it is a little of this life that they offer you for your wedding!
www.dj-mariages.ch